Diabetes drug boosts bone fat and fracture risk; exercise can partially offset the effect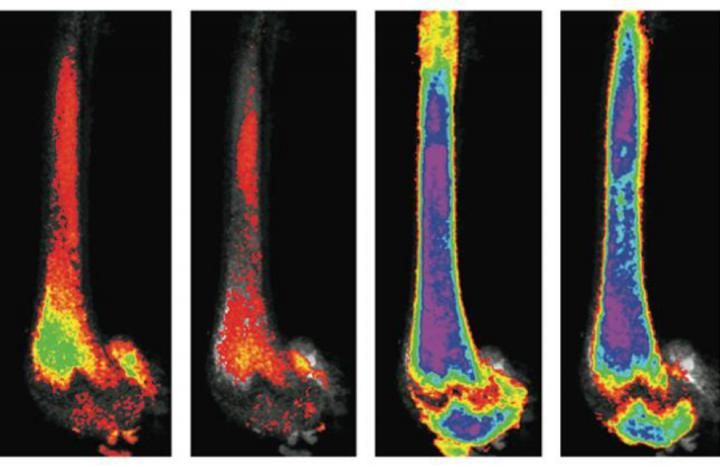 The study also shows that exercise can decrease the volume of bone fat caused by high doses of the diabetes drug rosiglitazone, which is sold under the brand name Avandia.
"These drugs aren't first or second-line choices of treatment for type-2 diabetes, but some patients do take them," said study first author Maya Styner, MD, assistant professor of medicine. "And we know there are drugs in development that target the same cellular pathways as rosiglitazone does. We think doctors and patients need to better understand the relationship between diabetes, certain drugs, and the often dramatic effect on bone health."
According to Styner's study, rosiglitazone affects bone fat by enhancing a critical transcription factor called PPAR - peroxisome proliferator-activated receptor - which regulates the expression of specific genes in the nuclei of cells. Essentially, rosiglitazone takes glucose out of blood to lower blood sugar and treat diabetes. But that glucose is then packaged into lipid droplets. Styner's latest research showed that the drug also causes fat to be stored inside bone.
"First, we were surprised by the massive amount of bone fat caused by rosiglitazone," Styner said. "The images were just stunning. Also, the drug is so powerful and we used such a high dose that we didn't think exercise would decrease the fat depot much, if at all. But exercise did decrease the volume of bone fat by about 10 percent, which was similar to the decrease we reported seeing in mice that were not given the drug but were instead fed a high-fat diet."
Yet, other drugs under development that could be close to FDA-approval lower blood sugar by enhancing the PPAR pathway. These drugs are referred to as fibroblast growth factor-21 agonists.
"Early reports show that the same bone concerns are popping up with these new drugs," Styner said. "Doctors and patients need to be aware of this."
Whatever the case, exercise aids bone health. In her studies, Styner's team added a running wheel to mouse cages. Mice are natural runners. At night, they'd run several miles on the wheel. Styner's team then measured the effects of running. Even on a high dose of a power drug, such as rosiglitazone, the mice that exercised showed a significant decrease in bone fat.
Original publication
Maya Styner, Gabriel M. Pagnotti, Kornelia Galior, Xin Wu, William R. Thompson, Gunes Uzer, Buer Sen, Zhihui Xie, Mark C. Horowitz, Martin A. Styner, Clinton Rubin, and Janet Rubin; "Exercise Regulation of Marrow Fat in the Setting of PPARγ Agonist Treatment in Female C57BL/6 Mice"; Endocrinology; 2015
Other news from the department science
More news from our other portals