Injectable cryogel-based whole-cell cancer vaccines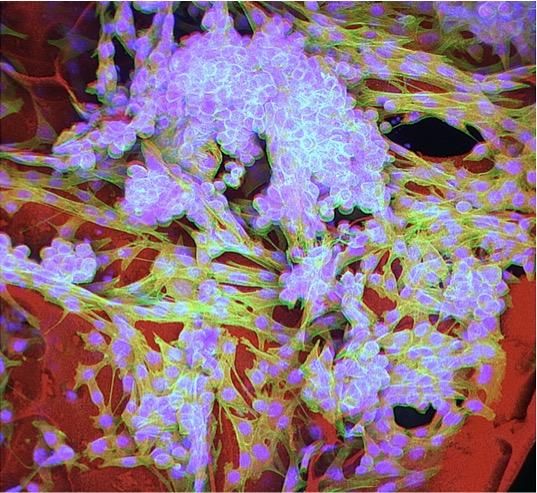 Wyss Institute at Harvard University
Mooney, who leads a Wyss Institute team developing a broad suite of novel cancer vaccines and immunotherapies, is also the Robert P. Pinkas Family Professor of Bioengineering at the Harvard John A. Paulson School of Engineering and Applied Sciences.
His team's latest approach differs from other cancer cell transplantation therapies - which harvest tumor cells and then genetically engineer them to trigger immune responses once they are transplanted back into the patient's body - in that the new cryogel vaccine's properties are used to evoke the immune response in a far simpler and more economical way.
"Instead of genetically engineering the cancer cells to influence the behavior of immune cells, we use immune-stimulating chemicals or biological molecules inserted alongside harvested cancer cells in the porous, sponge-like spaces of the cryogel vaccine," said Mooney.
"After injection into the body, the cryogels can release their immune-enhancing factors in a highly controlled fashion to recruit specialized immune cells which then make contact and read unique signatures off the patient's tumor cells, also contained in the cryogels. This has two consequences: immune cells become primed to mount a robust and destructive response against patient-specific tumor tissue and the immune tolerance developing within the tumor microenvironment is broken," said Sidi Bencherif, the study's co-first author and a Research Associate in Mooney's research group.
In experimental animal models on melanoma tumors, results show that utilizing the cryogel to deliver whole cells and drugs triggers a dramatic immune response that can shrink tumors and even prophylactically protect animals from tumor growth. With the pre-clinical success of the new cancer cell vaccination technology, Mooney and his team are going to explore how this cryogel-based method could be more broadly useful to treat a number of different cancer types.
Other news from the department science
More news from our other portals