Spin-off Scailyte and Lexogen create a joint biomarker discovery workflow for precision medicine companies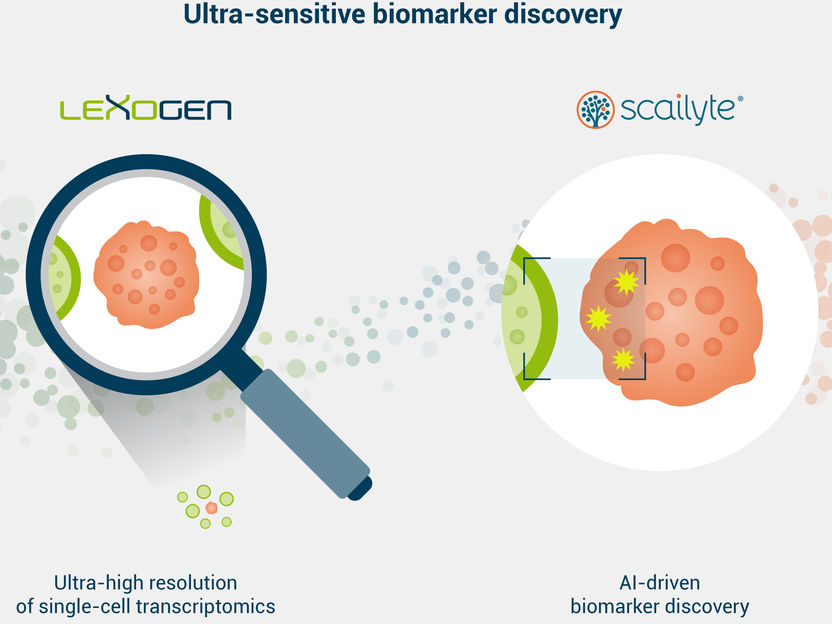 The joint workflow will focus on applications within oncology and immunology, such as qualification and stratification of patients for clinical trials, analysis of trial results on deep cellular level or analysis and quality control along the development of cell therapies.
The companies kick-start the outreach to pharmaceutical and diagnostic companies, aiming to set up the first pilot projects in Q3-2021.
"The combination of these unique and innovative tools is great news for everyone! Indeed, thanks to an unprecedented level of information and precision, this platform will contribute to making personalized medicine a reality, and ultimately save more lives." said Stéphane Barges, Chief Executive Officer at Lexogen.
Andrius Serva, PhD, Director of Corporate Development at Scailyte added: "Scailyte's success in biomarker discovery and validation is tightly linked to high-quality single-cell input datasets. Our ScaiVision™ platform integrates this data together with clinical patient parameters and identifies accurate molecular biomarkers that are used for disease diagnosis, prognosis, prediction of patient response to a treatment or cell therapy QC. I am delighted about the partnership with Lexogen, which will allow us to offer an end-to-end biomarker discovery workflow to the joint customers in pharmaceutical, diagnostic and CRO industries. Together with Lexogen, we will be able to offer the solution for ultra-sensitive biomarkers to more customers and so bring the benefits of precision medicine to more patients."
Other news from the department business & finance
More news from our other portals
Something is happening in the life science industry ...
This is what true pioneering spirit looks like: Plenty of innovative start-ups are bringing fresh ideas, lifeblood and entrepreneurial spirit to change tomorrow's world for the better. Immerse yourself in the world of these young companies and take the opportunity to get in touch with the founders.