Safety benefits of automated substance handling
Health and safety departments are playing an increasingly important role in defining the protection required for handling toxic or hazardous substances in a workplace. Laboratories in all industries must carefully consider the right approaches and equipment that should be employed to protect operators who are required to handle or weigh out toxic or hazardous substances as part of their daily tasks.
This application note explains how the Mettler-Toledo XPR Automatic Balance can significantly reduce exposure risk during automated powder and liquid dispensing, and provide safety benefits to the researcher when handling toxic or hazardous compounds in the laboratory.
White Paper classification
Applications
automated powder dispensing
Download white paper now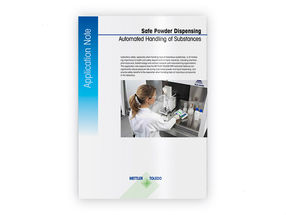 Minimized user exposure with safe powder dispensing
Safety benefits of automated substance handling
You may also be interested in these white papers