Accurate Results with Standard Operating Procedures for Periodic Eccentricity Tests
In weighing accuracy is everything. Every little thing matters: From storing test weights, to moving them, to using the appropriate accessories. Therefore it is essential to take into consideration the details. How to evaluate the eccentric load deviation according to the standardized processes?

Learn more about basic rules for handling balances and weights in order to get the correct results with Standard Operating Procedures for routine testing.
Download white paper now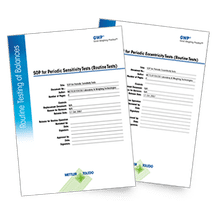 How to Reduce Uncertainty in Weighing?
Accurate Results with Standard Operating Procedures for Periodic Eccentricity Tests
You may also be interested in these white papers