Mettler-Toledo
The Ultimate Knowledge Tool for Weighing Champions
Preparation of buffers, standards and samples often requires weighing followed by dissolution to a defined volume or dilution in volumetric flasks. During these preparations errors may occur and badly influence the final outcomes. With our weighing Life Science guide you will learn about possible sources of errors and how to avoid them. This will guarantee you measurement quality and reliable weighing results at all times.






The weighing Life Science guide gives a 360° view with in-depth descriptions of:
Sample and solution preparation
Gravimetric sample preparation / Gravimetric dilution
Techniques and practical tips and hints

Download the guide now and learn how to be a weighing champion!
White Paper classification
Applications
gravimetric sample preparation
Product categories
Download white paper now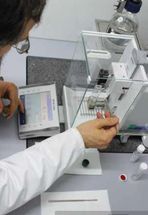 Get our Weighing Guide
The Ultimate Knowledge Tool for Weighing Champions
You may also be interested in these white papers