Buying tips and comparison with integrated systems
Mammalian cells in suspension, e.g. for the expression of recombinant proteins or the production of bioreactor starter-cultures (inoculum), are typically cultivated in shake flasks. This process is done in a CO2-enriched atmosphere with high relative humidity that requires specialized devices. Two systems are commonly used: a) CO2 resistant shakers that are placed inside a traditional CO2 incubator and b) CO2 incubators with an integrated shaker. As there is a significant overlap of application for both systems, the White Paper discusses advantages and disadvantages of both systems and provides tips for the proper selection of a CO2 resistant shaker.
Aspects discussed in the White Paper: performance for optimized growth conditions, cleanability and contamination prevention, flask capacity, longevity and reliability, device flexibility for various applications, initial investment and running costs.
White Paper classification
Applications
Product categories
Download white paper now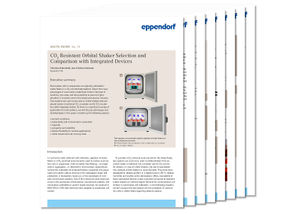 CO2 resistant shakers – A selection guide
Buying tips and comparison with integrated systems

All about Eppendorf