More standards leading to leaner processes
Digital transformation does not stop at the pharmaceutical industry. But until Pharma 4.0 can become socially acceptable, it will first and foremost be necessary to define globally uniform standards. This is going to take time. Time which the industry does not have in view of the speed of development at Google and Amazon and their penetration of the healthcare market. The White Paper gives a brief overview of the way in which structures have evolved over time and places them in the context of current technological developments in drug production.
You will learn the following:
How the interface landscape is formed in many pharmaceutical companies.
Why common standards will be indispensable in the future.
How Pharma 4.0 solutions can also be implemented with structures that have grown non-organically.
What strategy Stäubli as a company is pursuing in regard to digital transformation.
Which of the robot manufacturer's technological developments are helping to make automated production futureproof.
Download white paper now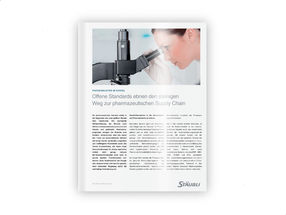 Why drug manufacturing needs to become more flexible
More standards leading to leaner processes
You may also be interested in these white papers