Mettler-Toledo
Pipette quick check guide with SOP and 5 practical tips
Are you planning an important experiment, perhaps with rare or precious substances? Do you need to ensure that the pipette used measures correctly? As we all well know, pipettes get dropped and parts wear out. It's therefore recommended to verify the performance of your pipette by doing a gravimetrical pipette Quick Check on your laboratory balance, also referred to as a pipette test or performance test. This is an excellent way to ensure the accuracy of your data and reduce overall failure risk.

Why is it important to check your pipette's performance?

Up to 35% of pipettes sent to a service provider for calibration are out-of-specification, based on an East Coast Pharma study – 1998-2003. If your pipette is one of these, does it mean you have to invest a lot of time and effort investigating which analyses could have been affected? What's the risk of your experiments leading to faulty results?

How can you avoid this? Simply perform quick checks to verify your pipette's performance regularly in-between service calibration intervals.

In this guide you'll learn 5 practical tips that will help make your quick checks smoother and help you establish an SOP that ensures your pipettes maintain accuracy between official calibrations.


White Paper classification
Applications
gravimetric pipette checks
Product categories
Download white paper now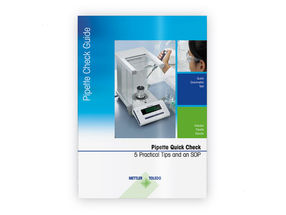 How to quickly check pipettes?
Pipette quick check guide with SOP and 5 practical tips
You may also be interested in these white papers