New generation of biotech chips for organ-on-chip technology
"The chip allows us to dive into completely new application areas for organ-on-chip technology"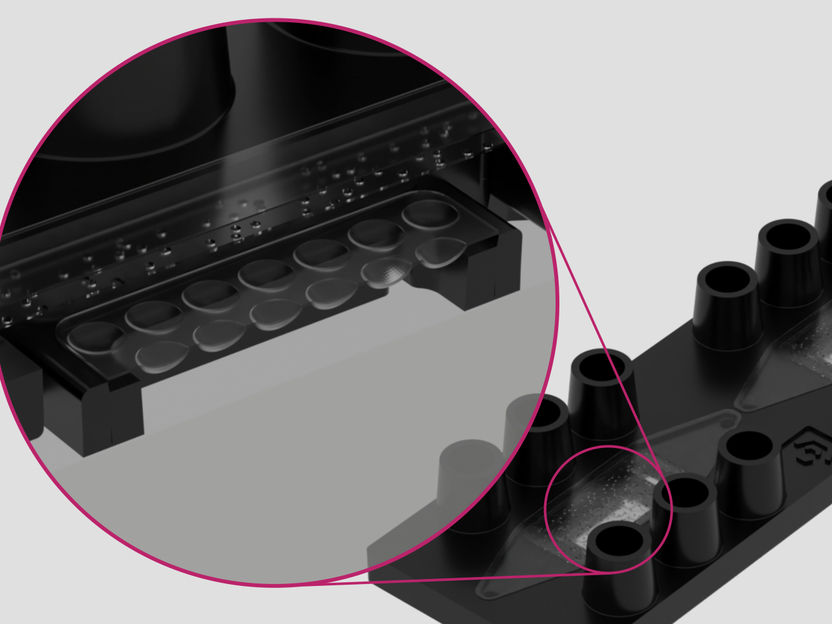 In addition, complex models relating to immunological issues can be mapped, which are used in basic research and drug development. The novel chip BC003 was successfully tested in a pilot project in cooperation with the working group of Prof. Nicole Teusch from the Heinrich Heine University Düsseldorf. In this project, a cancer model was developed from pancreatic cells to investigate therapeutic options.
Replication of complex tissue cultures in the BC003 chip
The special feature of the new chip is the spatial design with three culture chambers. This enables the cultivation of complex, three-dimensional tissue cultures. Until now, many organ-on-chip applications have used chips with two very narrow chambers on top of each other. However, this quickly leads to limitations in terms of spatial dimensions. The technical integration of spheroids (spherical tissue structures) in chip formats with a simultaneously flowing culture medium has been difficult to design up to now. Applications such as biologically complex tumour models in chip applications remained limited.
"The chip allows us to dive into completely new application areas for organ-on-chip technology, such as cancer research," explains Dr. Martin Raasch, CEO of Dynamic42. "To improve the significance of research results that are transferable to the human organism, we have designed the chip architecture to be more complex. The main advantage for the user is that this does not complicate handling."
Expanding the application areas of organ-on-chip technology
Multi-layered, artificially created and self-organising tissues, so-called organoids, could hardly be satisfactorily reconciled in a meaningful combination with microfluidics so far. The same applies to the very popular technique of spheroid culture. The novel chips open up the possibility of cultivating spheroids and stem cell-based organoids in one chip platform and combining them with other tissue components, such as blood vessel tissue.
"With an additional chamber and integrated microcavities, so to speak small recesses for the tissue spheroids, we have created an innovative chip design here and are also bridging the gap between our technology and the rapidly emerging stem cell technology," adds Dr Martin Raasch.
In the current investigation of pancreatic cancer tissue on the three-chamber chip BC03, tissue spheroids of the pancreas are microfluidically cultivated together with blood vessel tissue on the chip and tested for drug trials. This internal test phase will be completed in spring 2023. The results so far have been so satisfactory that the chip has already been offered since the first quarter.
Other news from the department business & finance
More news from our other portals
Something is happening in the life science industry ...
This is what true pioneering spirit looks like: Plenty of innovative start-ups are bringing fresh ideas, lifeblood and entrepreneurial spirit to change tomorrow's world for the better. Immerse yourself in the world of these young companies and take the opportunity to get in touch with the founders.