CSIC researchers develop more effective bioelectrodes for future medical treatments
Study concludes that bioelectrodes with nanocolumns perform better than traditional ones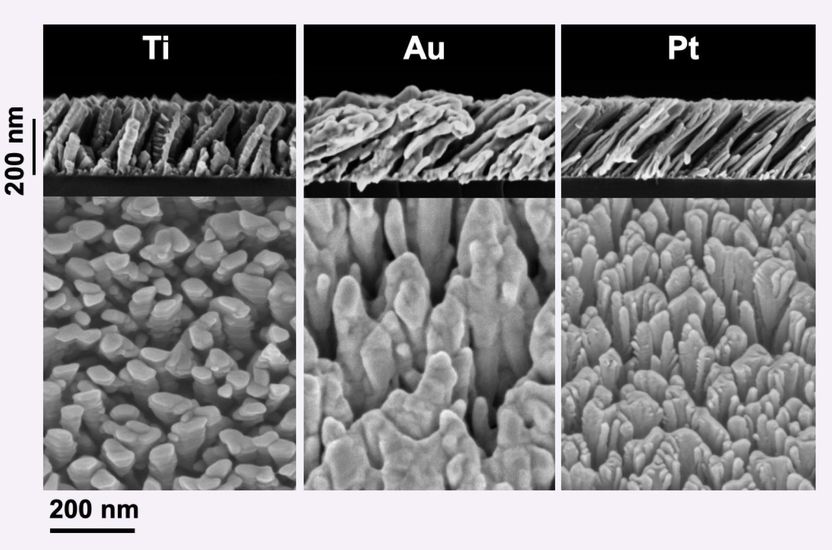 CSIC researchers lead a study, published in Nanoscale, which shows the advantages of using different structures from the conventional flat bioelectrode to obtain the best possible performance for future regenerative medicine treatments, especially in the recovery of neuronal cells. As a result of this study, IMN researchers have patented a miniaturized device for in vitro electrical stimulation based on nanocolumns and are currently looking for industrial partners.
The work, led by the researcher from the Institute of Micro and Nanotechnology (IMN-CNM-CSIC) Sahba Mobini, concludes that bioelectrodes with a structure formed by metallic nanocolumns have superior electrochemical behavior compared to conventional electrodes in a physiological environment that simulates the conditions of the human body. Based on three types of biocompatible electrodes (titanium, gold and platinum), it has been shown that the nanocolumn structure allows a higher charge storage capacity and transfers electrical signals more precisely. "These electrodes make it possible to inject a more than sufficient electric current, using a lower voltage than that required by flat electrodes, which is vitally important to avoid exposing cells and tissues to a voltage that could be harmful," says the researcher.
At the IMN, Mobini leads a project investigating the role of electrical stimulation in neuronal cells for their application in regenerative medicine. "Our goal is to recover cells that suffer neuronal lesions after a traumatic event, such as a stroke, through electrical stimulation. To do this, we use these nanocolumnar bioelectrodes, which are responsible for delivering electricity to neuronal cells," explains the researcher.
The application of electrodes for medical treatments has become a common resource: neurodegenerative diseases such as Parkinson's disease use electrical therapies, but their use is not only restricted to these cases; bioelectrodes are also used to restore motor functions thanks to the stimulation of brain and spinal cord cells. Other current applications are the treatment of chronic pain and the control of computer/human interfaces in the case of robotic prostheses.
In order to be able to assess a future application in neural implants, the bioelectrodes were subjected to various tests to assess their durability inside the human body, especially in the face of oxidative reactions. The results confirm that the gold and platinum nanocolumns show little change after one year of aging under simulated conditions.
Sputtering to create nanocolumns
Another of the attractions of the work is that, for the fabrication of the bioelectrodes, the technique of sputtering in oblique configuration has been used, a physical method that allows the vaporization of the atoms of a solid structure by means of the bombardment of energetic ions to produce nanocolumns.
About sputtering, researcher José Miguel García-Martín, who also participated in the study, comments: "Chemical methods are cheap, but they involve having to deal with the recycling of many materials, and nanoscale lithography techniques allow you to obtain electrodes with very similar nanostructures, but at a very high cost, so in the end they are only used for basic science studies. Sputtering allows us to work with a cheap and sustainable cost, and in a non-polluting way, besides being a scalable technique".
Note: This article has been translated using a computer system without human intervention. LUMITOS offers these automatic translations to present a wider range of current news. Since this article has been translated with automatic translation, it is possible that it contains errors in vocabulary, syntax or grammar. The original article in Spanish can be found here.
Original publication
Other news from the department science
More news from our other portals