DZNE's First Spin-off "Neuron–D" Uses Innovative Technology for Drug Testing
Drug Screening with 3D Cell Cultures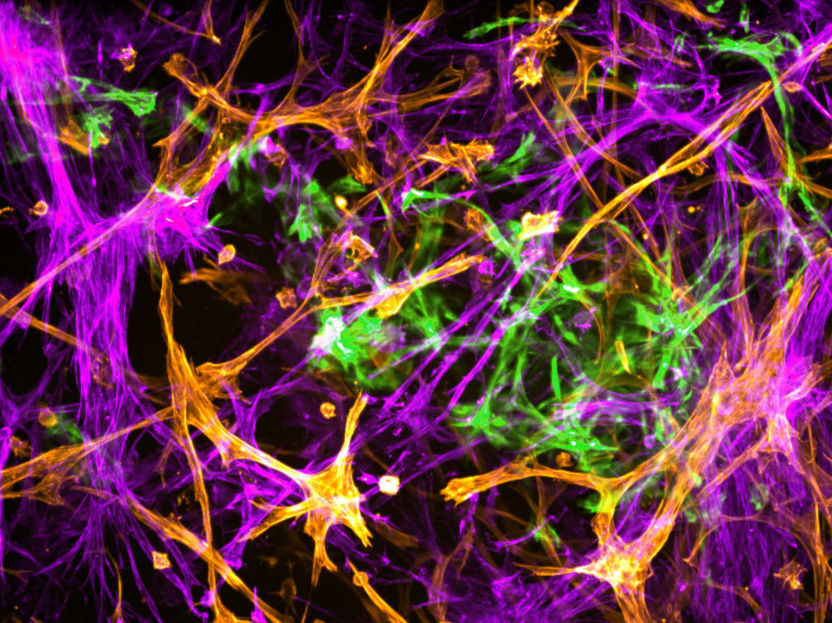 The development of new drugs requires extensive testing. Before promising compounds can enter human trials, they must first prove their value in the laboratory. This requires appropriate analytical devices, so-called assays, to test the effect of pharmaceutical substances as realistically as possible. For this purpose, Neuron-D applies a special technique for the production of cell cultures. "In most methods for creating cell cultures from human neurons, the cells only interconnect on flat surfaces. Using our approach that involves innovative biomaterials called starPEG-heparin hydrogels, the cells link in three dimensions. This results in structures that are very similar to the human brain's plexus. And the way individual neurons develop in our cell cultures also recapitulates what happens in our brains. We therefore speak of a reductionist, experimental brain model," explained Dr. Caghan Kizil, co-founder and CEO of Neuron-D.
Dr. Kizil, who co-developed the cell culture technique as a research group leader at the DZNE's Dresden site, adds: "We can replicate relevant physiological features of human neurons better than with conventional cell cultures. This allows us to draw more realistic conclusions about the effect of the substances under investigation. Our patented 3D brain model is customizable, cost effective and delivers fast results, making it unique and innovative."
Service Provider for Pharmaceutical Research
The resulting cell cultures can be tailored to the specific requirements so that either the situation in the healthy brain or pathological conditions can be mimicked. "Our technology is aimed in particular at screening drugs against neurodegenerative diseases such as Alzheimer's disease. We see ourselves as a service provider and technology partner for pharmaceutical companies and research institutions," said Dr. Kizil. Neurotoxic tests are also feasible, he explained: "We can use our cell culture model to study whether chemical substances trigger undesirable reactions. Such analyses are required, for example, as part of efficacy or toxicity tests."
Small Samples
The technique for producing these neuronal models was jointly developed by the DZNE and IPF and a patent application was filed in 2016 based on the previous development of the hydrogel technology by the IPF. In this approach, which is based on stem cells derived from healthy adults or patients, human neurons intertwine within a special gel that serves as a substrate to form a three-dimensional network. The cell cultures each comprise tens of thousands of neurons; however, the cultures are not larger than a piece of cube sugar. Based on the license agreement, Neuron-D can now utilize this technology for commercial purposes.
Further Technical Development
Neuron-D was founded in 2019 by Dr. Caghan Kizil, along with Prof. Dr. Carsten Werner and Dr. Uwe Freudenberg, two researchers from the IPF, who are the developers of the hydrogel technology and have vast expertise thereof. The start-up has so far attracted private investment of more than 1 million euros. "We aim to build a high-throughput screening platform based on our cell culture technique. This will allow thousands of compounds to be tested quasi on a piecework basis. The system will be fully automated by using state-of-the-art technologies. Our platform will enhance the reliability of pre-clinical in vitro testing by providing a human brain-like microenvironment. This will provide substantial cost benefits for the end-users", said Kizil. "Our screening platform will be available in 2022. Potential end users can already discuss their needs with us at Neuron-D. This gives us the opportunity to adapt the system to customer requirements already during the current development phase."
First DZNE Spin-off
In the course of its about 10-year history, the DZNE has already licensed various technologies to companies. Now, for the first time, this applies to a newly founded company whose business model is largely based on know-how co-developed by the DZNE. "Neuron-D is the first spin-off for DZNE and an example of how self-motivation of scientists paired with support from the technology transfer and specific internal promotion of innovation lead to the further development of scientific results up to the point of application. This shows that our research creates promising innovations," said Dr. Bernadett Simon, head of the DZNE's Technology Transfer Office.
Other news from the department research and development
More news from our other portals
Something is happening in the life science industry ...
This is what true pioneering spirit looks like: Plenty of innovative start-ups are bringing fresh ideas, lifeblood and entrepreneurial spirit to change tomorrow's world for the better. Immerse yourself in the world of these young companies and take the opportunity to get in touch with the founders.