New checkpoint antibody against cancer
BioNTech and OncoC4 announce strategic collaboration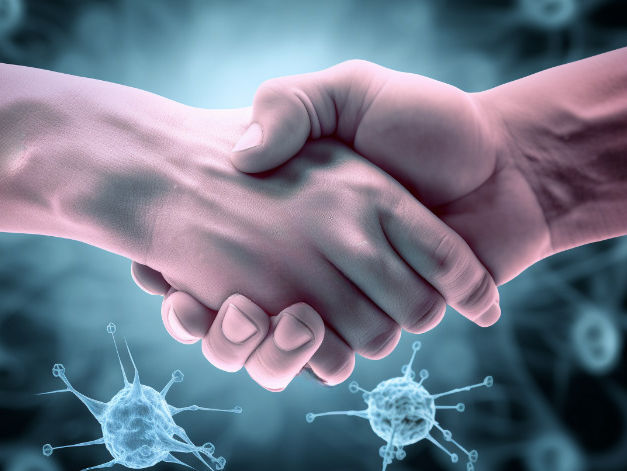 CTLA-4 is a molecule that inhibits the activity of immune cells via various mechanisms. OncoC4's CTLA-4 antibody candidate ONC-392 aims to delete immunosuppressive T cells (regulatory T cells, "Tregs") in the tumor microenvironment, but spare Tregs in healthy tissues. With a potentially differentiated safety profile, ONC-392 may be able to achieve a more effective dosing regimen in the clinic and more successful tumor killing. Data from the ongoing Phase 1/2 trial (NCT04140526) in patients with advanced solid tumors were presented at SITC in 2022 and 2021, where ONC-392 showed encouraging clinical activity, either as single agent or in combination with pembrolizumab in patients with metastases, particularly those who progressed on immunotherapies targeting PD-1 and CTLA-4.
ONC-392 received Fast Track designation from the U.S. Food and Drug Administration ("FDA") as a monotherapy for immunotherapy-resistant non-small cell lung cancer ("NSCLC"). The data in monotherapy of PD-1-resistant NSCLC support the initiation of a randomized Phase 3 trial which will evaluate ONC-392 as monotherapy against the current standard of care in that indication (NCT05671510). The candidate is currently also being evaluated in an additional Phase 2 trial as a combination therapy with pembrolizumab in platinum-resistant ovarian cancer (NCT05446298).
"Despite being a prime target for more than a decade, we believe that targeting CTLA-4 has not reached its full potential in cancer immunotherapy," said Prof. Ugur Sahin, M.D., Chief Executive Officer and Co-Founder of BioNTech. "The data presented by OncoC4 on their ONC-392 antibody indicate a differentiated safety profile and encouraging clinical activity in various types of tumors. We believe that this antibody is a valuable addition to our immuno-oncology portfolio, whether used alone or in combination with our personalized immunotherapies."
"Because of its specific mechanism of action, we believe ONC-392 has the potential to broaden the reach of CTLA-4-targeting immunotherapy," said Yang Liu, PhD, Co-Founder, CEO and Chief Scientific Officer of OncoC4. "We very much look forward to working hand-in-hand with BioNTech in developing ONC-392 for cancer indications with unmet medical needs."
Under the terms of the agreement, OncoC4 will receive a $200 million upfront payment and is eligible to receive development, regulatory and commercial milestone payments as well as double-digit tiered royalties. BioNTech and OncoC4 will jointly develop ONC-392 as monotherapy and in combination with anti-PD-(L)-1 antibodies in a range of solid tumor indications, including NSCLC, until approval, with the parties equally sharing development costs for such studies. All combinations outside of PD-1 inhibition, in particular all combinations with a compound in BioNTech's pipeline, will be solely developed by BioNTech. BioNTech will hold the exclusive worldwide commercialization rights for any of these products with participation of OncoC4 in certain markets to be negotiated in the future.
Other news from the department business & finance
More news from our other portals