SIRION BIOTECH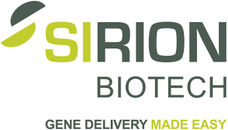 SIRION BIOTECH GmbH
About SIRION BIOTECH
SIRION Biotech is the leading developer and manufacturer of viral vectors for research and preclinical applications. With over 8000 completed projects, spread across 600 new and repeat customer groups from academia and industry, we are positioned to help cell and gene therapy companies get the most effective treatments to patients as quickly and efficiently as possible.

We enable our partners to develop the most successful vectors for their biotherapeutic applications and guide our customers through the entire Cell & Gene Therapy value chain. From capsid evolution and AI-enabled clinical vector design to reduce vector dose and improve therapeutic success, to supporting you with our process and development experience and manufacture of high-quality viral vectors for late preclinical applications -- we help improve transduction efficiency, provide well characterized material for assay development or as internal references, control vector dosage, address immunogenicity and tissue tropism challenges, improve processes, and more.

Our featured product, LentiBOOST®, is a highly effective lentiviral transduction enhancer for therapeutic cell types like CAR-T cells and CD34+ hematopoietic stem cells. LentiBOOST® is currently included in more than 40 Phase III and I/II clinical trials in the USA and Europe, and 1 approved product. Additionally, our robust platform processes for manufacturing high quality and high titre preclinical batches for up to 50L can streamline your entire vector management program.
Facts about SIRION BIOTECH
Facts about SIRION BIOTECH
Founding: 2005
Focus : Service
Employees: 51-200
Industry : Biotechnology
Products from SIRION BIOTECH
Here you will find SIRION BIOTECH GmbH