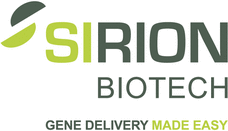 Profile
SIRION Biotech is Europe's leading commercial supplier of viral vectors used for genetic cell modelling, gene target validation and gene therapy- and vaccination studies.

Since its foundation in 2007, SIRION's mission has been to change the paradigm for viral vector supplies. It has the ability to custom modify and supply all common viral vector types (adenovirus, lentivirus and AAV) within a matter of weeks.Its manufacturing network allows dependable supply of virus titers and quantities from preclinical and animal research levels to clinical testing.

The company also offers a full range of complementing virus related services, from advanced virion modifications to multi-staged virus driven cell modelling.

Its technologies include the transformational RNAiONE™knockdown validation platform to complete this versatile portfolio.

Several of its next-level innovations are available for out licensing to industrial clients.

Viral vector services

SIRION's core expertise lies in the customized design and generation of virus vectors for genetic engineering of mammalian cell systems. With its comprehensive portfolio, SIRION offers a suitable option for almost any in vitro and in vivo application. This maximizes researchers' experimental freedom when designing cell based projects and ensures maintenance of high quality standards.

Adenovirus customization Recombinant adenovirus particles (AVs) are the viral vector of choice for strong, transient gene over expression and–knockdown. SIRION Biotech`s patented adenovirus generation system is based on bacterial artificial chromosome (BAC) technology allowing for custom AV generation in under five weeks. SIRION uses replication deficient E1/E3 deleted stereotype 5 recombinant AVs that comply with all official safety criteria. SIRION`s service allows for virtually any vector customization within a range of 7.5 kb. SIRION AVs enable proficient cell type accessibility for highly efficient transduction of hard to transfect cells, even primary cells, without species limitations.

Lentivirus customization Lentiviruses provide researchers with an ideal method for fast, efficient and cost effective generation of stable cell models.SIRION Biotech`s lentiviral vector technology allows for constitutive as well as inducible gene modification. It offers a reliable system for strong gene over expression and –knockdown, with custom cloning-to-virus delivery times in less than four weeks. Inducible LV constructs enable the experimenter to work with otherwise unattainable, cell toxic gene targets or shRNA sequences, adding to the range of potential applications of this vector system. SIRION`s in house optimized LV vectors enable the generation of expression-homogeneous, stable cell models without the necessity to waste time on additional clonal selection steps post-transduction.

AAV customization Adeno-associated viruses (AAV) possess biological characteristics that make them one of the most promising avenues for in vivo application of viral vectors. They allow long-lasting gene over expression and-knockdown to assess phenotypic impact of a gene at the level of the living organism.

AAVs feature a lack of apparent pathogenicity, along with long-term gene expression in vivo of up to one year. SIRION Biotech undertakes customized construction and manufacture of AAV serotypes 1-6 and1.2 in less than eight weeks, guaranteeing a minimum of 1-5 x10E12 viral particles. This range allows for tissue targeted expression control that is further increased by a selection of cell specific promoter strategies. The service enables the integration of virtually any desired expression construct within the vector's cloning capacity of 4.5 kb. Inducible systems are in development. SIRION's highly purified and concentrated AAVs enable non-toxic in vivo gene delivery and comply with German BL-1 (S1) safety regulations, which are among the most stringent in the world.
Products
Product portfolio
cell models

S

erotypes
vectors
More about SIRION BIOTECH