Verified
Catalog: Rainin Pipette Catalog
Pipettes, Tips, Service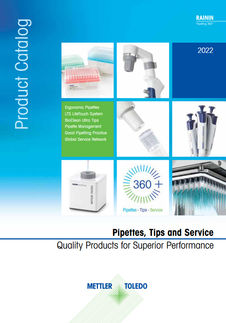 Superior Products for Peak Performance - from METTLER TOLEDO Rainin
Through its Rainin brand, METTLER TOLEDO is a leading provider of advanced liquid handling solutions for scientists worldwide. We offer a wide selection of ergonomic manual pipettes, electronic pipettes, multichannel pipettes, BioClean LTS and universal pipette tips and expert pipette services. It is a complete pipetting solution that we call Pipetting 360°.
Our commitment to quality, innovative design and state-of-the-art production result in superior pipette products that deliver years of reliable operation.
Rainin developed the LiteTouch System (LTS) to increase the accuracy and precision of pipettes while decreasing friction, making Rainin pipettes a leader in pipetting ergonomics. The risk of repetitive strain injuries (RSI) is greatly reduced when using ergonomic Rainin LTS pipettes and tips.
On a total of 52 pages, the METTLER TOLEDO Rainin product catalog contains in-depth information on all pipettes, pipette tips, special products and service offerings as well as sound background information on the mechanics, production and selection of pipettes
Product classification
Applications
Product categories
Request product information now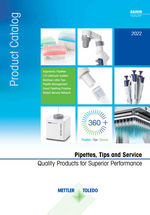 Catalog: Rainin Pipette Catalog
Pipettes, Tips, Service
You might also be interested in these products